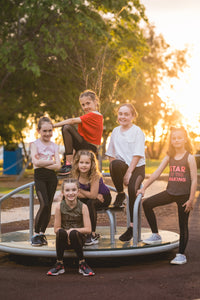 Confidence, what does it mean?
Our team at Mini Actives, love to see our girls feeling more confident within themselves. Raising a generation of young women is no easy task, and we want to make sure they feel empowered, and confident to be themselves!
So today, we're sharing our 5 best tips for raising confident women...
Model body acceptance; help your daughter/s develop a critical eye to decode and filter media messages. We want them to understand our bodies come in all different shapes and sizes. It's not a one size fits all kinda society, and there's no such thing as "the perfect size". It's important to talk about what they see online, and how they feel towards their own bodies. Seeing YOU appreciate yours and the journey it went through is the best way for her to learn body acceptance.

Don't raise her to be a pleaser! Encourage your daughters to stand up for themselves, for their own beliefs. Ask her, "what makes you tick?". Encourage and support opportunities to use her voice, ask her "What do YOU want?" Let her have an age-appropriate say in what she wears, the types of activities she does. Does she want to dance? play sport?

Start team sports early. Research indicates that girls who start team sports earlier have higher self-esteem. What types of sports would she enjoy? Soccer? Netball? Hockey? Dancing? Gymnastics?

Direct your praise away from how she looks, match every compliment this is looks based with two that are not.

Help her to build skills independent of appearance: sports, arts, music. Activities that allow her to express her creative side.
Have a question? Or another tip to add to building your child's confidence?
Drop them below.
---