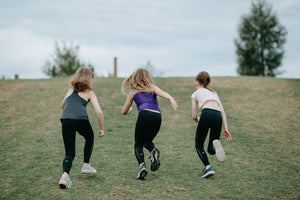 Girls in Sport, what are the benefits?
Encouraging your children to engage in sport from an early age, has so many benefits. It's more than just the physical benefits, it also benefits their psychological development. Positive relationships with body esteem, better organisational skills, time management, a better commitment to studies, are all supported when engaging in team sports. Kids that play team sports score on average 40% better with test results, compared to those who didn't play sport at all. Long term being involved in sports has a greater impact on social skills, and giving children the opportunity to be involved in a team, work together in a group setting, push themselves and each other, dream boldly and achieve shared success. It leads them to be happier, and healthier adults.
Our tights are built to support your daughters in all aspects of physical activity. Feeling confident, and supported as they engage in sports is a huge priority to us at Mini Actives.
Our MIss Ada tights are available in Navy, Grey, Red and Black. They're designed for all the sport and play your child can handle! Our tights are comfortable, supportive, lightweight, breathable, super stretchy and moisture-wicking. Everything your daughter needs to feel safe and supported.
https://miniactives.com/collections/kids/products/miss-ada-navy
---