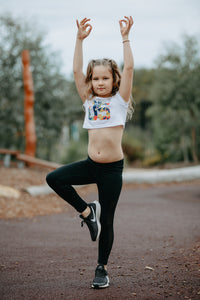 Meditation for Kids, What's it all about?
We recently began a discussion on our Instagram page, of the benefits of introducing meditation to children. We know as parents that it is vitally important for our children to find positive ways to express their thoughts and feelings, our world is constantly changing, and those changes can have less than desirable impacts on our little ones.
So, what is meditation?
Essentially it is a means of transforming the mind. A practice where an individual uses a technique such as mindfulness, focusing your mind on a particular object, thought or activity to train attention and awareness and achieve a mentally clear, emotionally calm and stable state.
How does it benefit our children?
Meditation helps children to improve their listening, problem-solving skills, build empathy, foster compassion, discover deep breathing techniques, regulate their emotions, visualisation, sleep better, reduces anxiety and levels of stress, promotes confidence, self-esteem, and encourages them to use positive affirmations.
How do we start?
Explain to your child what meditation, and mindfulness is; paying attention to our breathing, learning to be calmer, kinder and less distracted at home, school and with friends.

Lead by example; children are prone to mirroring the actions of others.

Start short and simple; begin with 1-2 minutes.

Choose a safe space; ask your child where they feel most comfortable

Pick the right time; bedtime is a great time to start, where your children feel most calm, it also sets up a successful bedtime routine to assist your child to fall asleep

Practice Gratitude; gratitude exercises are a great way to end the day. Ask your child to think of three things they are grateful for today.

Encourage feeling emotions; ask your child how they are feeling, how they felt at various parts of the day. Teaching them to be in tune with their feelings allows them to cope, and handle them in positive ways.
---